Blue Blood Brewing Co. really under-estimated their first year's sales demand
Blue Blood Brewing Co., Lincoln, NE, opened in December, 2011. They debuted their product in kegs and cans using a Cask manual canning system.
In February they started the process of doubling their brewing capacity and purchased a Cask automated canning line. "We had no idea we'd need Cask's automated canning system (ACS) so soon," laughs owner, Brian Podwinski. "We were able to quickly sell our manual system and are pleased with how easy it is to use the ACS which requires a lot less labour."
According to the owner, they contribute their sales success to good pre-planning.
The biggest break – starting working with the distributor before I even had a business plan ready was the best thing we could have possibly done," states Podwinski. "The distributor has been able to push Blue Blood Brewing while we were still building the place. People were already interested and draft accounts had been pre-sold in anticipation of the product release.
In May, they started distributing to Canada.
Thunderhead Brewery moves production to a new factory brewery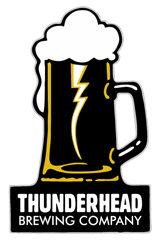 To meet rising demand, the owners of Thunderhead Brewery, in Kearney, NE, made a transition from being a pub brewery to running a factory brewery.
Trevor Schaben, head brewmaster and co-owner of Thunderhead Brewery, states "We needed space and needed to expand the brewing capacity. We also worked into the expansion the space to automate the canning. Before, we canned all the beer by hand. We were very pleased with how smoothly the Cask ACS was installed and up and running. We continue to get consistent fill levels and low dissolved oxygen rates which ensures the quality of our beer."
Craft beer cans are really starting to take off. They are economical, easy to pack in and out of any event, and most importantly great for the beer. If you put great beer in the can, you get great beer out," states Schaben.
Schaben said the brewery now has the capability of producing 1,300 gallons per week. There are more than 60 locations in Nebraska where Thunderhead Brewery beer is sold.